CCNP ROUTE 300-101 (UPDATED 2018)
Implementing Cisco IP Routing (ROUTE)45 H 18 M
The CCNP Route course, where you'll learn how to implement Cisco routers, is the first of three exams you are required to pass in order to become CCNA certified.
This course has a virtual lab
This course has a practice test
Network Principles

Overview
Cisco Express Forwarding
General Network Challenges
IP Operations
IP Operations Part 2
Explain TCP Operations
Describe UDP Operations
Understanding Network Changes

Layer 2 Technologies

Point-to-Point Protocol (PPP)
Point-to-Point Protocol (PPP) Part 2
Explain Frame Relay Operations
Explain Frame Relay Operations Part 2
Explain Frame Relay Operations Part 3

Layer 3 Technologies

IPv4 Addressing
IPv4 Addressing Part 2
IPv4 Addressing Part 3
IPv4 Addressing Part 4
IPv6 Addressing
IPv6 Addressing Part 2
IPv6 Addressing Part 3
Static Routing
Static Routing Part 2
Default Routing
Routing Protocol Types
Routing Protocol Types Part 2
Administrative Distance
Administrative Distance
Passive Interfaces
VRF Lite
VRF Lite Part 2
Filtering Routes
Filtering Routes Part 2
Filtering Routes Part 3
Route Redistribution
Route Redistribution Part 2
Route Redistribution Part 3
Route Summarization
Route Summarization Part 2
Route Summarization Part 3
Policy Based Routing
Route Maps
Loop Prevention
Loop Prevention Part 2
Loop Prevention Part 3
RIPv2 Configuration
Describe RIPng
EIGRP Fundamentals
EIGRP Packet Types
EIGRP Neighbors
EIGRP Neighbors Part 2
EIGRP Authentication
EIGRP Stubs
EIGRP Stubs Part 2
EIGRP Load Balancing
EIGRP Metrics
EIGRP Over IPv6
OSPF Packet Types
Basic OSPF Configuration
Basic OSPF Configuration Part 2
OSPF Network Types
OSPF LSA Types
OSPF Route Types
OSPF Area Types
OSPF Area Types Part 2
OSPF Virtual Links
Manipulating OSPF Paths
IPv6 Routing with OSPF
Introduction to BGP
Configuring BGP
Configuring BGP Part 2
Configuring BGP Part 3
Configuring BGP Part 4
BGP Attributes
BGP Attributes Part 2

VPN Technologies

GRE Tunnels
GRE Tunnels Part 2
Describe DMVPN
Easy Virtual Networking
IPsec Tunnels

Infrastructure Security

AAA Configuration
Device Access Control
Device Access Control Part 2
Router Security Features
Router Security Features Part 2

Infrastructure Services

Device Management
Device Management Part 2
SNMPv2 and SNMPv3
Configure and Verify NTP
Debugging and Logging
Debugging and Logging
Debugging and Logging Part 2
Debugging and Logging Part 2
Configure and Verify DHCP
Configure and Verify DHCP Part 2
Configure and Verify DHCP Part 3
Network Address Translation
Network Address Translation Part 2
Configuring IP SLAs
Tracking Objects
Netflow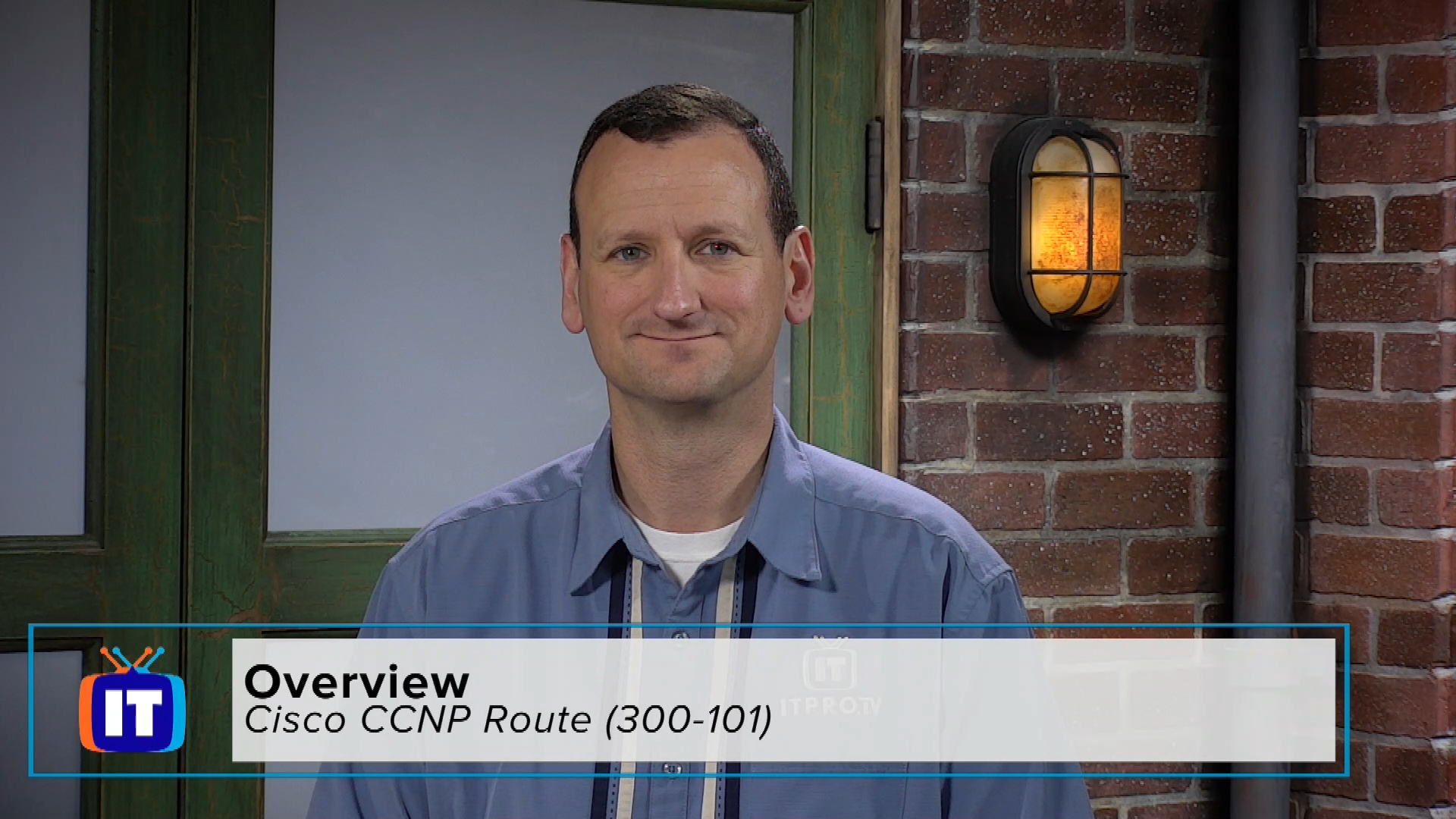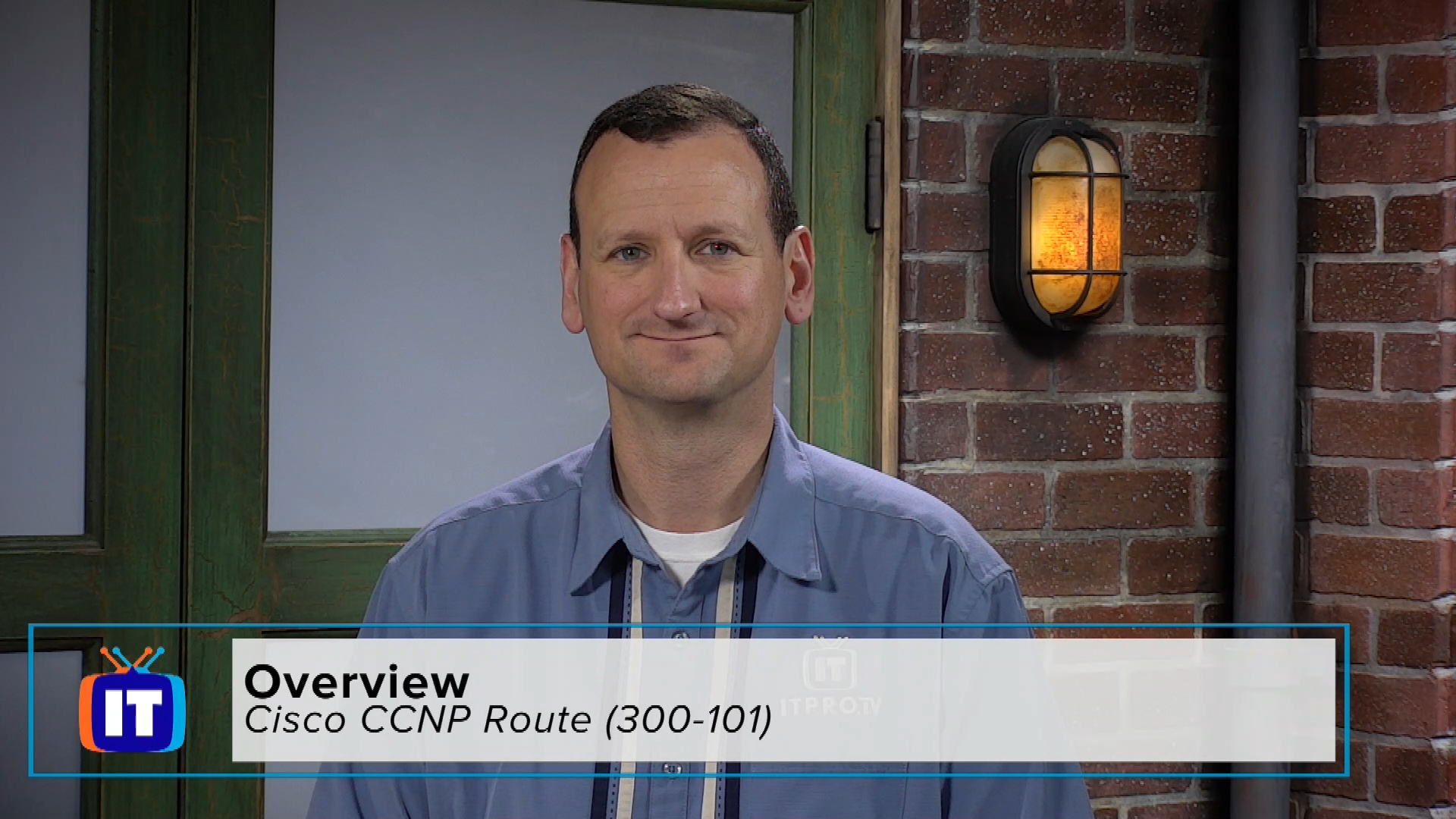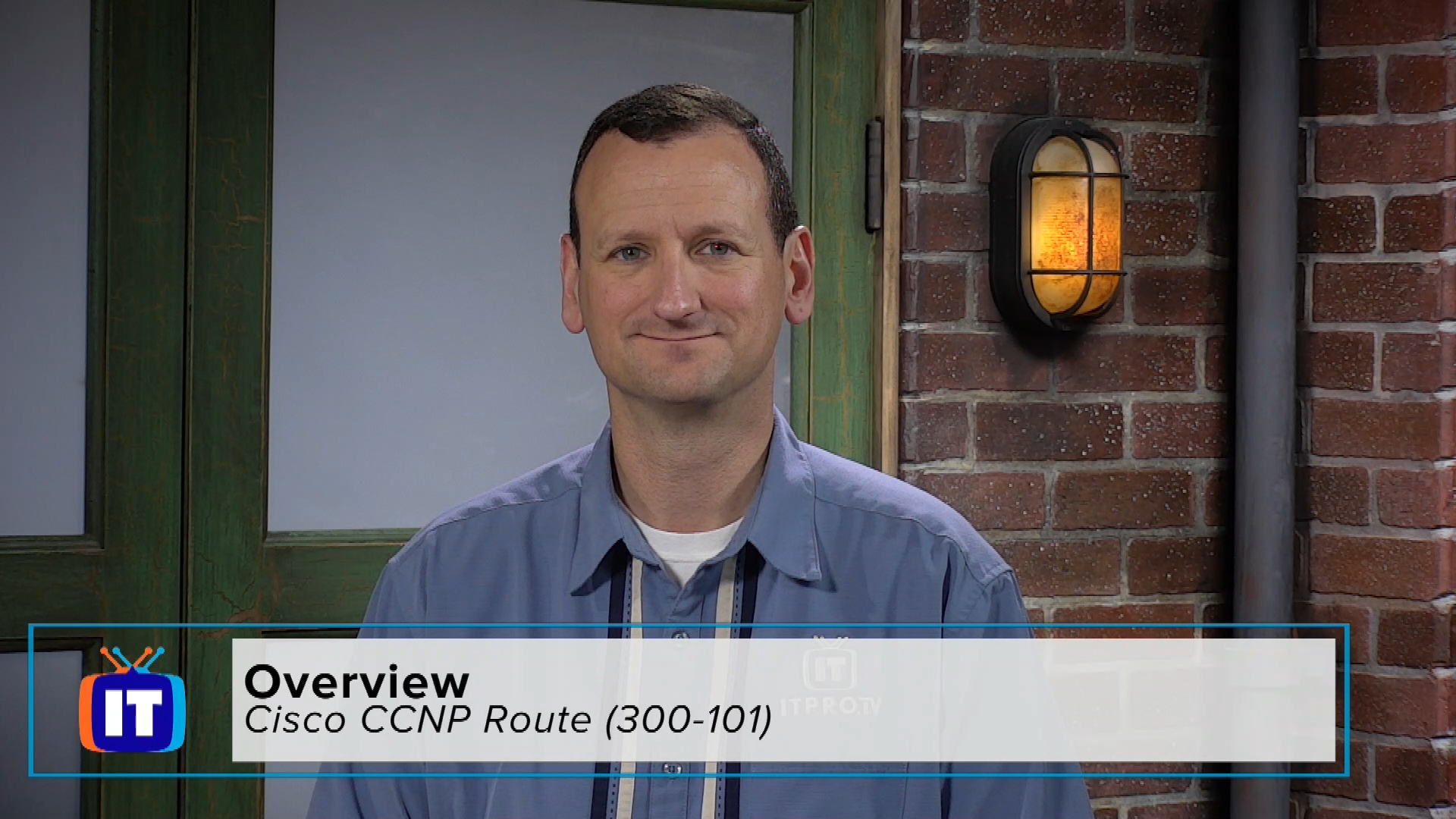 Episode Description
Transcript
The Implementing Cisco IP Routing (ROUTE) exam is the first of three exams required to obtain the Cisco Certified Network Professional certification. This exam focuses on Cisco router implementation in medium and large environment. The topics covered range from interior and exterior routing protocols to advanced route manipulation. The typical viewer would be anyone responsible for the maintenance and implementation of Cisco routers in a large or enterprise organization.
[MUSIC] Hi, in this video we're going to be taking a look at the Cisco CCNP Route show here in the ITProTV library. This course is built around exam number 300-101 and is designed to help get you ready to take that exam, which is a part of the CCNP track. Let's start start there with what is the CCNP, right? It's the Cisco Certified Network Professional and it's designed to show a higher level of knowledge than somebody who has the CCNA or Cisco Certified Network Associate. This is the next step in that progression. The main difference is you go from managing small networks of one to ten routers to hundreds of routers. Potentially very, very large networks which have a lot of different concerns and considerations that we need to be aware of. Throughout the CCNP course we learn about a lot of the different features that are available to help us to scale networks to really large sizes as well as to help troubleshoot, isolate and resolve issues. Now the CCNP routing and switching is divided up into three courses, this is just one of those three. Let me show you on Cisco's website. If you go and take a look at the CCNP Routing and Switching page, they show the three different certifications that are available. This one is the 300-101 route. It focuses primarily on routing technologies. Switching technologies are broken off into a separate exam, and troubleshooting is a third one, although we do a little bit of troubleshooting in all three courses. So you'll kind of see it sprinkled throughout. If 300-101 is an exam that's proctored through Prometric, I'm sorry, not Prometric, Pearson Vue, so you can go to vue.com to register for the exam. They have testing centers all over the world. When you go to the test, it is a 120-minute exam, 2 hours long. And you'll get between 45 and 65 questions. Now, that sounds really imprecise, and the reason is this exam is not just multiple choice. You'll have a number of questions on there that are actual interactive. You have to do something. They'll give you access to three routers and they'll say, this route is not showing up in a routing table. Why isn't it? Figure it out. Get it to show up. They'll tell you to do some kind of hands on activity. So that type of a practical question takes more time. That will result in you having less overall questions. That's why you get a window range there, 45 to 64 questions. But the test is available from Vue, like I said, all over the world, you can sign up to take it whenever you are ready. Now the exam itself covers a lot of different topics and in the show, we've actually structured our show built around these exam numbers, the objective numbers. So if you're following along in our course, if you watch every episode you will notice that you're slowly moving through each of these objectives. It's basically divided up into six domains. And we start with network principles. These are general fundamentals, things that for the most part you should have learned in the CCNA, right? You do need to hold your CCNA before you can be awarded with the CCNP certification. So think of the beginning section here as kind of a review. Basic foundational concepts that you need to have under your belt before you move into the more complex technologies. Then we move into Layer 2. I know this is a route show and you might be thinking, Layer 2, that's switches shouldn't that mean switch? Well, wide area network technologies like frame relay, MPLS, those are technically Layer 2 Technologies, that are implemented on a router. And so we spend some time taking a look at those as well as VPNs. Layer 3 Technologies, this is actually where the bulk of the exam comes from. If you look at the percentages over here, 40% of the exam almost half the exam comes from that third domain, and that's because it's Layer 3. It's focusing on EIGRP, OSPF, BGP. Some of these are routing protocols that you only see very briefly on the CCNA exam, on the CCNP, we need to know really well how those protocols work, and how we can scale them up to large environments. VPNs are tackled in domain four. We've got infrastructures security in domain five. This is how we can secure our routers and implement things, not just like access control lists, but even security measures to protect our console port, and monitoring and logging. Monitoring and logging also shows up in six, which is infrastructure services. We take a look at things like net flow and how we can use it to monitor traffic passing through our network, and how we can interpret those results. All different features that are found in the Cisco IOS, just not enabled by default. So we have to know they exist, get in and configure them, and then we can get the most advantage out of our Cisco equipment. All right, now, who is all this tailored towards? Well, network engineers. If you're a network administrator for a company, or if you're aspiring to become a network administrator, the CCNP is a great certification to hold because it validates your skill set. Not that you can just manage one router or one switch, but that you could potentially manage hundreds of routers, thousands of switches. Once you have the bigger protocols under your belt and you know how to manage those technologies, you can handle networks of a global scale. Now there is the service provider certification track, the CCNP service provider. That one is designed for ISPs. A lot of the technologies that we learn in CCNP routing and switching match up, you learn BGP in both, for example. But in the service provider track, you learn BGP from the perspective of the global Internet. In CCNP routing and switching we focus more on an enterprise environment, so you look at BGP in terms of connecting your business to an ISP or to two ISPs. Not thinking globally just thinking more regionally tied to your ISPs. It's different perspective on things. So there is an overlap between the certification tracks but a different approach to what we're trying to achieve with those technologies. Now if all that sounds interesting to you then you are in the right place. Stay tuned for those CCNP episodes coming up right after this. If however some of that didn't sound like something you are familiar with, remember the CCNA is really your starting point. So if you just jump back technically the CCENT the Cisco Certified Entry Network Technician that's the very beginning, that's the first CCNA exams. You can start there, learn your basics and work your way up to the CCNP. But if you already got the basics down pat, you're in the right place, stay tuned because CCNP route is starting next. [MUSIC]
Just you? Training a whole team? There's an ITProTV plan that fits.
With more than 4,000 hours of engaging video training for IT professionals, you'll find the courses you and your team need to stay current and get the latest certifications.